Cloud video transcoding
Transcode any video in the cloud with scalable APIs
Transcode any video file into the most popular formats and codecs. Create thumbnails, add subtitles and DRM, and save output to any storage destination. Build with flexibility using hundreds of transcoding settings available via our video API.Video Transcoding Demo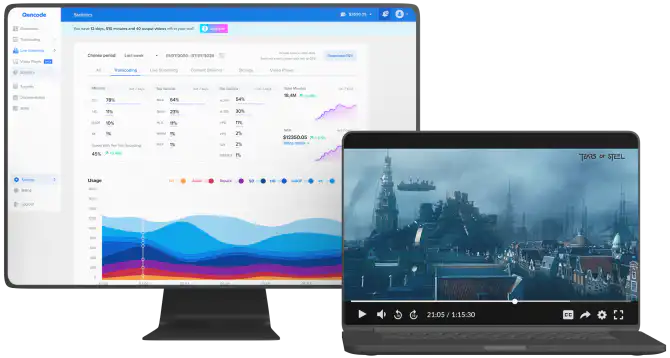 Our users include
How does video transcoding work?
Source Videos
Provide URL or Upload video directly
Qencode Cloud
Video transcoding formats
---
Input
FORMATS AND CODECS
Any video format and codec,
including MP4, AVI, MOV, MKV, HLS, MPEG 2 (TS & PS), MXF, ASF, ProRes, XDCAM, DNx, MPEG1, M4A, M4V, F4V, F4A, M4B, M4R, FLV, VOB, 3GP, 3GP2, and many more.
Learn more about our video formats and codecs.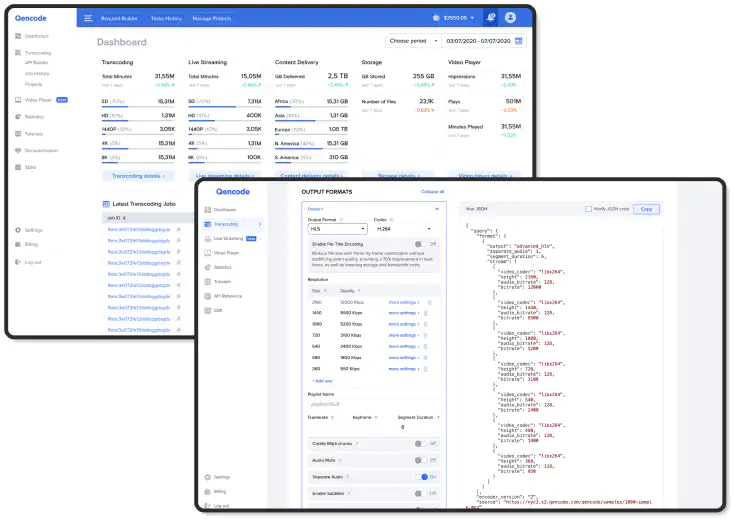 Robust UI and API
Start transcoding in a few simple steps. Our UI, API, and SDKs make it easy for you easily build you own cloud video service.
Our robust API allows more advanced users to customize every element of their output videos to fit their exact needs.
Features
---
Reduce file size without losing video quality with our AI-powered codec optimization algorithm.
Smart adaptive-bitrate ladder
Generate an individual bitrate ladder for each individual HLS, DASH, and CMAF video automatically based on machine learning-driven suggestions.
Brings the high and low frequencies into an appropriate range to improve the overall user experience for viewers.
Cut sections of any video to create a separate video clip for the specified segment.
Subtitles and closed captions
Copy closed-captions from original video or add new subtitles from existing text files like SRT.
Choose any part of the video to output a single image or an interval of time to create a carousel for the timeline, including VTT files or other sprites.
Generate playable GIF images from any part of an existing video file.
Add your own image to any position of the video with customizable transparency.
HTTP Callbacks (webhooks)
Automatically receive event updates on each part of the transcoding process to any URL you specify.
Guard your videos from unauthorized sharing by encrypting them using Widevide, Playready and Fairplay standards.
Use the Advanced Encryption Standard feature as a simple approach to shield your video files from piracy.
Transcode video files into the most popular formats like MP4, HLS, MPEG-DASH, WEBM, and compress them using codecs like H.264 (AVC1), H.265 (HEVC), LCEVC, VP8, VP9, and AV1.
Pull the metadata from any video, including framerate, bitrate, format, duration, timecode, audio channels and more.
Create UHD resolutions from 4K to 8K, and everything in between for display in standardized and custom aspect ratios.
Transcode ultra-high quality video for virtual reality with frames up to 8K and beyond, while maintaining all the necessary tags for seamless playback.
Take clips from various part of a single video, or from multiple video files, and combine them all together into a single output file.
What is video transcoding?
Video transcoding is defined as the process of converting a video file from one format and codec to another. Codecs (short for CODer/DECoder) compress media files using complex algorithms that remove redundancies, both within frames as well as across consecutive frames.
Video compression is generally considered computationally intensive process, so it requires a lot of resources to convert a large number of files with unpredictable usage spikes. Qencode uses advanced processing techniques and economies of scale to efficiently and reliably convert video files via their developer friendly API.
On average, transcoding a video takes about 10 minutes for each 10 minutes of video duration, however with Qencode you can often transcode an SD video in 1 minute.
Video Transcoding Demo
Output settings
Enable Per-Title encoding