Cloud Video Transcoding
Encode videos with scale and flexibility
Transcode any video file into popular formats and codecs using a powerful API expanded with hundreds of features, including thumbnails, DRM, watermarking, AI optimization and more. Our efficient online media encoding technology provides speed and flexibility for a low, and easy to understand price.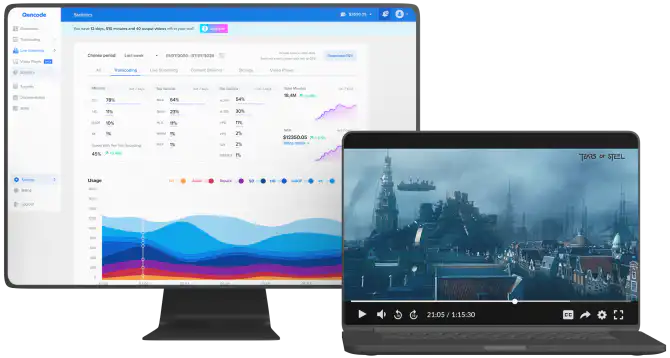 What is video transcoding?
Video transcoding is defined as the process of converting a video file from one format and codec to another. Codecs (short for CODer/DECoder) compress media files using complex algorithms that remove redundancies, both within frames as well as across consecutive frames.
Video compression is generally considered computationally intensive process, so it requires a lot of resources to convert a large number of files with unpredictable usage spikes. Qencode uses advanced processing techniques and economies of scale to efficiently and reliably convert video files via their developer friendly API.
On average, transcoding a video takes about 10 minutes for each 10 minutes of video duration, however with Qencode you can often transcode an SD video in 1 minute.
How does video transcoding work?
Source Videos
Provide URL or Upload video directly
Qencode Cloud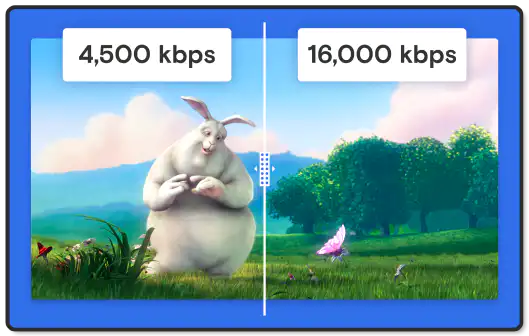 Scene-based encoding optimization powered by machine learning
Our Per-Title Encoding technology analyzes your video across hundreds of parameters and performs a custom transcode to create the highest quality video file at the lowest possible size.
Video transcoding formats
---
Input
FORMATS AND CODECS
Any video format and codec,
including MP4, AVI, MOV, MKV, HLS, MPEG 2 (TS & PS), MXF, ASF, ProRes, XDCAM, DNx, MPEG1, M4A, M4V, F4V, F4A, M4B, M4R, FLV, VOB, 3GP, 3GP2, and many more.
Learn more about our video formats and codecs.
Why do you need to transcode videos?
The purpose of transcoding is to improve video delivery, playback, storage and device support, by encoding videos into certain formats or codecs. This allows your content to reach more devices, get delivered faster, and create a wonderful viewing experiences for all of your users. For example, you can transcode a 4K video from a single stream that was originally 16 Mbps, into an adaptive streaming format with 8 resolutions, the highest of which has only 7 Mbps.
Using methods like Per-Title Encoding, you can compress a large number of videos without any perceivable loss in video quality. Since, encoding media at scale can be computationally intensive and highly irregular, using an on-demand cloud API allows you to build scalable video applications with ease.
This is done by leveraging economies of scale and a wide range of features, including thumbnails, subtitles, encryption, watermarks and hundreds of other custom parameters.
Features
---
Reduce file size without losing video quality with our AI-powered codec optimization algorithm.
Smart adaptive-bitrate ladder
Generate an individual bitrate ladder for each individual HLS, DASH, and CMAF video automatically based on machine learning-driven suggestions.
Brings the high and low frequencies into an appropriate range to improve the overall user experience for viewers.
Cut sections of any video to create a separate video clip for the specified segment.
Subtitles and closed captions
Copy closed-captions from original video or add new subtitles from existing text files like SRT.
Choose any part of the video to output a single image or an interval of time to create a carousel for the timeline, including VTT files or other sprites.
Generate playable GIF images from any part of an existing video file.
Add your own image to any position of the video with customizable transparency.
HTTP Callbacks (webhooks)
Automatically receive event updates on each part of the transcoding process to any URL you specify.
Guard your videos from unauthorized sharing by encrypting them using Widevide, Playready and Fairplay standards.
Use the Advanced Encryption Standard feature as a simple approach to shield your video files from piracy.
Transcode video files into the most popular formats like MP4, HLS, MPEG-DASH, WEBM, and compress them using codecs like H.264 (AVC1), H.265 (HEVC), LCEVC, VP8, VP9, and AV1.
Pull the metadata from any video, including framerate, bitrate, format, duration, timecode, audio channels and more.
Create UHD resolutions from 4K to 8K, and everything in between for display in standardized and custom aspect ratios.
Transcode ultra-high quality video for virtual reality with frames up to 8K and beyond, while maintaining all the necessary tags for seamless playback.
Take clips from various part of a single video, or from multiple video files, and combine them all together into a single output file.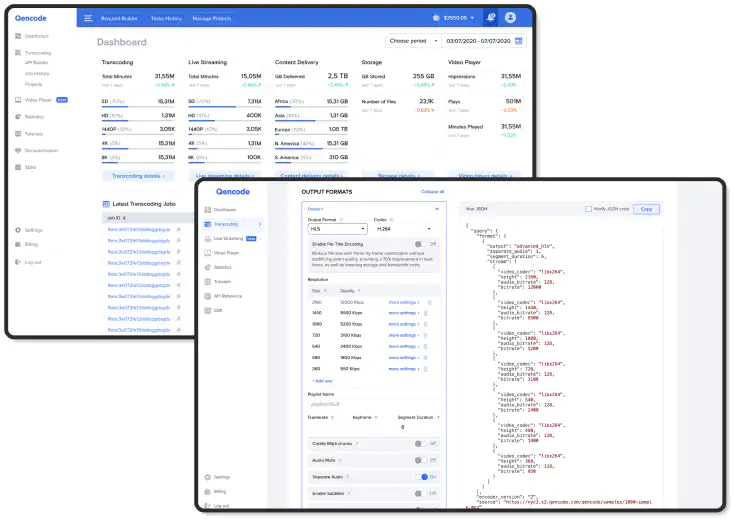 Robust UI and API
Start transcoding your videos in just a few simple steps. Our intuitive API and SDKs, combined with our UI, make it easier than ever to build your own cloud video service.
Our robust API allows more advanced users to customize every element of their output videos to fit their exact needs.
Transcoding Demo
Choose our demo file
| | | |
| --- | --- | --- |
| 1080 Sample (Qencode) | 1920 x 1080 / 800 MB / 00:50 / MOV / ProRes / 24 FPS | HD |
| Big Buck Bunny | 1920 x 1080 / 339 MB / 10:34 / MP4 / H.264 / 60 FPS | HD |
| 4K Sample (Qencode) | 3840 x 2160 / 3.12 GB / 00:50 / MOV / ProRes / 24 FPS | 4K |
| Tears of Steel | 1920 x 800 / 557 MB / 12:14 / MOV / H.264 / 24 FPS | HD |
| Sintel | 1280 x 544 / 643 MB / 14:48 / MKV / H.264 / 24 FPS | SD |
Encoding costs for video formats and codecs
Resolution
Standard
HEVC/VP9
AV1
SD (less than 960×720)

0 - 691199 pixels

$0.005
$0.01
$0.30
HD (2160 x 1080)

691200 - 2332800 pixels

$0.01
$0.02
$0.60
1440 (2880 x 1440)

2332801 - 4147200 pixels

$0.025
$0.05
$1.20
4K (4096 x 2048)

4147201 - 8388608 pixels

$0.045
$0.09
$2.40
5K (5120 x 2560)

8388609 - 13107200 pixels

$0.08
$0.17
6K (6144 x 3072)

13107201 - 18874368 pixels

$0.12
$0.25
7K (7168 x 3584)

18874361 - 25690112 pixels

$0.16
$0.33
8K (8192 x 4096)

25690113 - 33554432 pixels

$0.22
$0.47
Resolution
Standard
HEVC/VP9
AV1
SD (less than 960×720)

0 - 691199 pixels

$0.0075
$0.015
$0.45
HD (2160 x 1080)

691200 - 2332800 pixels

$0.015
$0.03
$0.90
1440 (2880 x 1440)

2332801 - 4147200 pixels

$0.037
$0.075
$1.80
4K (4096 x 2048)

4147201 - 8388608 pixels

$0.067
$0.135
$3.60
5K (5120 x 2560)

8388609 - 13107200 pixels

$0.12
$0.25
6K (6144 x 3072)

13107201 - 18874368 pixels

$0.18
$0.375
7K (7168 x 3584)

18874361 - 25690112 pixels

$0.24
$0.495
8K (8192 x 4096)

25690113 - 33554432 pixels

$0.33
$0.70
Contact sales team
To learn more about custom features and volume discount, please reach out to us
Encryption & DRM
DRM (Digital Rights Management) allows you to control who is able to view your videos using encryption layers which prevent piracy and unauthorized use.
Qencode has full integrations with the top DRM providers in the world.
Creates protection layer to prevent unauthorized use of content
Easily integrated into your transcoding workflow
Prevents piracy by making it difficult to illegally share content
Live transcoding of RTMP, WebRTC, and SRT
Deliver high quality video streams globally
Reach viewers around the world at resolutions up to 4K.
Simulcast streams to multiple social video channels or destinations
Live stream your broadcasts simultaneously to multiple destinations, including social video platforms like YouTube, Twitch, Facebook, Twitter, and LinkedIn.
Get stream information in real-time
Real-time statistics on stream performance so you can easily track stream health, playback, and bandwidth usage.
What does it mean to encode a video?
The difference between video encoding and transcoding is that video encoding is the process of taking a raw video file and converting it into the desired format and codec, while transcoding is taking a video that has already been encoded, and converting it into another format and codec.
Both encoding and transcoding can compress video files into specialized formats compatible with common digital delivery methods online. Both processes can also be used to standardize your video outputs, reduce file size and increase playback compatibility.
New media formats and codecs are constantly being developed to improve the results of video compression, as well as processing speed and playback performance.
Properly configuring codecs so that they adhere to standard protocols can also yield improvements in buffering reduction and playback failure.
Qencode's VOD API stays on top of the latest updates in video technology and continuously updates existing features to enhance performance and customization. Most workflows are preconfigured to make it easier to launch an encoding task than ever before.
A question many people have is, "Does transcoding reduce video quality?". Whether or not transcoding reduces video quality depends on the type of codec that is used to convert a video file.
For example, if you use a lossless video codec, the transcoding process will not reduce the video quality at all.
However, if you transcode using a lossy video codec, some file data and visual quality may be lost, even though it can sometimes be difficult to perceive this with the human eye. Your choice of lossless or lossy will depend on whether you need the video to be used for advanced editing or playback success.
Speed
Transcode your videos simultaneously at high-speeds.
Easily scale video transcoding that converts multiple videos in parallel, providing consistent speeds no matter the load at all hours of the day.
Security & Reliability
Secure and reliable encoding infrastructure.
Leave the maintenance and spike management to Qencode, as we work with you to develop powerful workflows with confidence.
Build your own custom video workflow
Create a free account and test all of our features for yourself
Talk to us
We love creating powerful solutions that are aligned with the needs of your business.
For more information about Demo or Plans and Pricing send us an email: sales@qencode.com