Video Formats and Codecs
Convert any file into popular formats and video codecs.
Qencode has input compatibility with 99% of video formats and codecs, and allows you to transcode your videos into the most popular video formats to cover any device or workflow.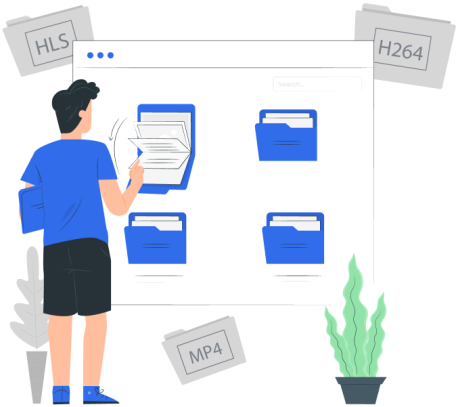 Video Transcoding
---
Input
FORMATS AND CODECS
Any video format and codec,
including MP4, AVI, MOV, MKV, HLS, MPEG 2 (TS & PS), MXF, ASF, ProRes, XDCAM, DNx, MPEG1, M4A, M4V, F4V, F4A, M4B, M4R, FLV, VOB, 3GP, 3GP2, and many more.
Live streaming
---
Output
formats
CMAF
Video format that combines of HLS and DASH into a single stream.
LL-HLS
Adaptive bitrate format designed for low-latency streaming.
HLS
Adaptive bitrate streaming protocol from Apple.
MPEG-DASH
Adaptive bitrate streaming protocol from MPEG.
Transcoding Demo
Choose our demo file
| | | |
| --- | --- | --- |
| 1080 Sample (Qencode) | 1920 x 1080 / 800 MB / 00:50 / MOV / ProRes / 24 FPS | HD |
| Big Buck Bunny | 1920 x 1080 / 339 MB / 10:34 / MP4 / H.264 / 60 FPS | HD |
| 4K Sample (Qencode) | 3840 x 2160 / 3.12 GB / 00:50 / MOV / ProRes / 24 FPS | 4K |
| Tears of Steel | 1920 x 800 / 557 MB / 12:14 / MOV / H.264 / 24 FPS | HD |
| Sintel | 1280 x 544 / 643 MB / 14:48 / MKV / H.264 / 24 FPS | SD |
Video File Transcoding pricing